Highland Dental Centre offers Orthodontic and Orthopedic treatments, including both braces and Invisalign.
---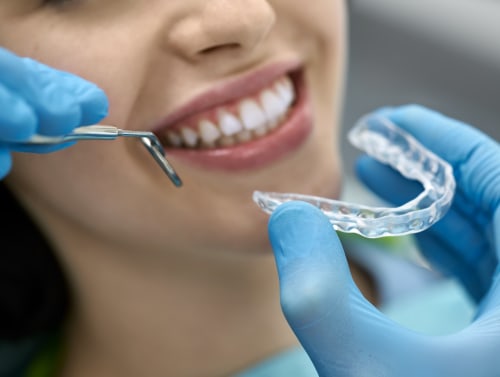 Orthodontics: Braces & Invisalign
What are orthodontics or braces?
Orthodontics is the practice of straightening teeth to provide an even-looking smile. Orthodontics more classically involves the use of braces that are bonded to the teeth. Braces are for both children and adults who want to change the look of their smile.
These braces allow us to control the teeth more accurately, so that we can fine tune their relationships to one another, and create that beautiful smile.
We are able to help patients transform their smiles through braces.
What is Invisalign?
Invisalign is an alternative to braces for orthodontic treatment which provides a metal-free way to straighten teeth. Invisalign aligners are specifically made to fit your mouth and are changed every 2 weeks to move your teeth in small steps.
Why is having an even bite important?
Untreated crooked teeth, such as crowded teeth, make it more difficult to maintain oral hygiene. They make it more difficult to brush and floss, and therefore can contribute to cavities, and sometimes gum disease.
Protruding teeth are susceptible to chipping, and other issues can cause tongue thrusting and speech impediments.
In cases like these, early orthodontic treatment and braces are important to prevent serious problems later in life.
If you are concerned about your bite, please contact the Pictou County's dentists at Highland Dental Centre today to set up an appointment.
Orthopedics
Though both are considered Orthodontics, Orthopedics is usually initiated earlier, in an effort to ensure more favorable facial growth and jaw structure.
It is known that only 18-20% of malocclusion (imperfect alignment of teeth when the mouth is closed) in children is genetic. This implies that the remaining 80% of poor bites arise due to environmental factors, such as poor tongue position, mouth breathing, allergies, or enlarged tonsils and adenoids.
As these influences act upon the developing lower face almost from birth, it is important to try to and counteract these negative influences early, and allow for more normal development.
Why are orthopedics important?
Well-timed functional therapy can have an astounding influence on your child's development, often discouraging mouth breathing, poor sleep habits and a slow physical growth pattern.
Functional orthopedic therapy is usually of short duration, may involve removable appliances, and often makes more extensive therapy ( like braces) unnecessary.
Functional Orthopedics are a great way to help younger patients avoid many of the conditions that have plagued their parents, such as poor sleep habits, T.M.J. pain, sleep apnea, small lower jaws (weak chin profile), and proud upper teeth (buck teeth) that my lead to poor self-image.
---
What can our team do for you?
Highland Dental Centre offers orthodontic services. We provide and monitor treatment for patients who require appliances and/or retainers.
If your dental treatment plan includes braces, Registered Dental Hygienist Jacinta Wornell will provide the treatment with careful oversight and direction from our dentists.